The Importance of Time
There's been a minor internet storm over the past couple of days about Damon Winter's use of an iPhone and the Hipstamatic app in his POYi bronze award winning series 'A Grunts Life'. Now I couldn't really give a damn what camera he used, and that's not the point of this article; however, a comment on a discussion board by my friend Jeff Hammond got me thinking. Here's what he said when musing on Winter's experiment with the iPhone:
'…in Winter's case, he saw that experiment through to the end and came up with something special…'
Specifically, this off-the-cuff comment got me thinking about the importance of time in photography (because that's what I'm interested in!) when applied to long term photographic projects. It's doubtless that Winter showed admirable persistence with a medium that others wouldn't have even considered as a tool for conflict photography; however, what interests me more is commitment over long periods of time to what can often be incoherent travails with no guarantee of a definitive ending.
Last Friday I went on a planned visit to the Yorkshire Sculpture Park near Sheffield. It's a wonderful place, and I'd highly recommend anyone with an interest in visual arts finds their way down there. The current exhibit is a retrospective of work by the renowned sculptor David Nash. The show contains some wonderful sculptures, some of them on a monumental scale; however my imagination was captured by a piece of work that was in the show in document form.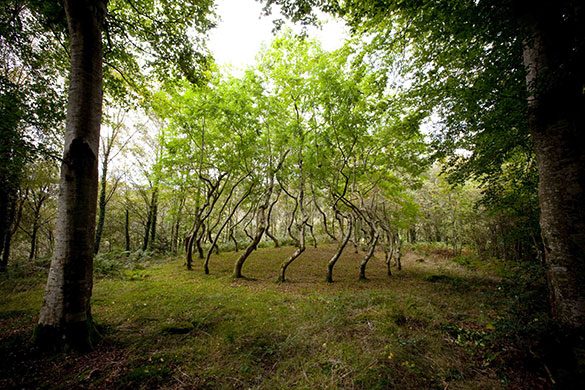 'The Ash Dome' is Nash's labour of love – a triumph of forward thinking, planning and belief in his own vision. In 1977, somewhere in the Vale of Ffestiniog in North Wales, Nash planted a ring of ash saplings. Over the last 33yrs, with careful pruning, Nash has manipulated the evolution of these trees into a haunting, animated form. Nash's devotion to his work is shown in this video:
As an artist, Nash has a unique clarity of vision that has given him the confidence to have faith in his ideas. The Ash Dome is justification for the adage 'it's a marathon not a sprint'. I can immediately think of three photographers who share this quality with Nash.
Harry Gruyaert's book 'Edges' (recommended to me by Hin Chua) charts around 25 years of the photographer essentially looking out towards where the ocean meets the sky, and photographing what he sees. It's a remarkably simple concept, but Gruyaert had the discipline to continue making these images over a long period of time; his monograph is the fruition of this long-sightedness.
Zed Nelson's project 'The Family' is more rigorous, almost scientific in it's execution. For the last 19yrs (and with no plans to stop) Nelson has photographed the same family; In his own words:
'The wife of a friend was nine months pregnant, and I had an idea – based on time-lapse photography – to photograph them together, on the same day every year, forever. I planned the shoots in a formal, almost scientific way. Every year, at the same time, against the same backdrop, under the same lighting. This way there are no distractions, only the miracle of growth and the changes of time and age'
It's uncanny how the last sentence of Nelson's statement could be applied to the evolution of Nash's 'Ash Dome'. While plenty of photographers may have attempted to make similar bodies of work, I can't think of any others who have executed their idea with such attention to detail.
In a similar (but perhaps more contemporary) vein to Nelson, Brooklyn-based photographer Noah Kalina went viral in 2004 with his epic self-portrait video 'Everyday'. Perhaps the most simple concept of all, but shot with surgical, automatic consistency and perhaps most importantly, presented in an addictive and memorable way.
Although Gruyaert's body of work is a little looser, the three projects that I have highlighted all seem to have followed a clear path. While the execution of the final product (in Gruyaert's case a book, in Kalina's case a video) is the key to lasting success, the persistence of the photographer in pursuing their vision has been the fundamental element in ensuring that the components exist for this final product to be made.
Not all photographers are fortunate enough to have a crystal clear project that they can follow with such confidence. I can only speak from my own experience, but I find that my progress on long term bodies of work is characterized by a fog of self doubt and confusion, punctuated by moments of clarity and understanding that give me the energy to persist. While my current body of work has a geographical framework (walking the circumference of London's outer suburbs) I'm discovering the cultural significance and the meaning of the work as I make it. It's a way of working that I've accepted as being a comfortable fit for me as a photographer. My utilization of time is less rigorous than for Nelson and Kalina, but an understanding of how the passage of time affects both the individual images and the body of work as a whole has become increasingly important.
How do the principals of time manifest themselves in your work and your practice? Do you have any other examples of photographers or artists that make time based work?
I'd be interested to hear your responses and anecdotes.